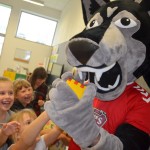 25-09-2020
Every Friday we celebrate Wolves Spirit Day at all schools of 
Foundation of International Education
 (the governing body of WIS). On Fridays, we wear red and black sport clothes (preferably our corporate ones with the logos of "wolf" teams) to enjoy the fact that all students participate in the 
Wolves Athletic Program
, which offers more and more disciplines each school year.
This Friday, however, was a really special one, because the classes were visited by a huge (but completely gentle) Wolf! Moreover, this wolf will stay with us for good!
The great mascot promotes our Wolves Athletic Program, a unique one on a national scale. The Wolf wears a T-shirt with our exclamation "Go Wolves!" and his task is to fuel sports enthusiasm during sports events and for other occasions. He wants to make sure that every student of WIS and its sister schools is encouraged to participate in our Athletic Program, to learn new disciplines, to integrate in international sports teams and to have a healthy lifestyle.
The wolf's visit to all grades was kept in strict secrecy until it began. Kids sparked with great enthusiasm, especially in the youngest grades. It was a wonderful surprise and joyful accent at the end of the week.
We are sure that you will hear about our athletic Wolf more and more again!
Go Wolves!!!