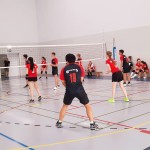 13-06-2022
Last Saturday, on the initiative of the PTA of ATUT Bilingual Primary School, we organized an integration picnic under the theme "Together we are better".
As part of the picnic, you could take part in sports competitions. We played, among others volleyball tournament Wolves Volleyball Invitational 2022, where we hosted the International School of Krakow (ISK). Our team of high school students took first place in the high school category, while ISK won first place in the senior primary school and first year high school category.
In addition to these sports emotions, you could:
try your hand at various skill stations,
watch a performance by the school's acro dance band,
listen to a concert performed by our talented students,
take part in workshops on creating forests in jars, making soaps and decorating,
play lacrosse matches,
solve mathematical puzzles,
jump on inflatables
take a funny photo tick-booth,
enjoy a delicious homemade cake.
The picnic was organized for a charity aim. We collected funds to support the Motyzhyn high school in the Kiev region. The collected donations will be transferred to Ukraine through the Wrocław-based Ukraine Foundation.
We would like to thank all parents, teachers and administration employees involved in the preparation of picnic attractions. We hope everyone had a great time!